Alec Gibson & Ted Gobillot, A Week in the Life
Alec Gibson & Ted Gobillot, A Week in the Life
Week in the Life of MSTP Graduate Students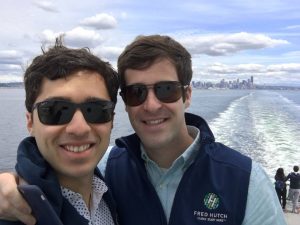 The UW MSTP has enabled us to make the most of our time in both the lab and Seattle as a whole. Our time during graduate school has been filled with diverse experiences— intellectual growth in the lab, days spent exploring the Pacific Northwest, and building friendships with our classmates. Between weekend trips to the San Juan Islands, hiking in the mountains, or trying new restaurants and bars around the city with friends, we try to make the most of our flexible schedules during graduate school.
We first met at an MSTP retreat during our first/second year in the program and got married a few years after starting graduate school. Family is one of the most important parts of our lives, and we try to make each other a priority even during stressful times in lab. Each of us have family on the east coast, and we have also been able to make time to see them regularly during our time in the program. Prioritizing both work and family can be difficult, especially as trainees, but the UW MSTP has allowed us to achieve the ideal balance. Our extracurricular activities are also very important to us, and we have been able to pursue our passions for social justice and advocacy during both medical and graduate school.
For us, a typical week involves running experiments in the lab Monday-Friday from 9am to 5pm (of course some experiments require later nights and earlier mornings). While some nights are spent planning experiments and analyzing data, we try to reserve evenings for family time or socializing with friends. On a weekend when we're not in lab, we can usually be found at one of Seattle many outstanding cafes before enjoying Seattle nightlife. Overall, the collaborative and innovative research environment enables us to thrive as scientists. At the same time, the supportive climate allows for an ideal dynamic between work and personal life.