Program
Diversity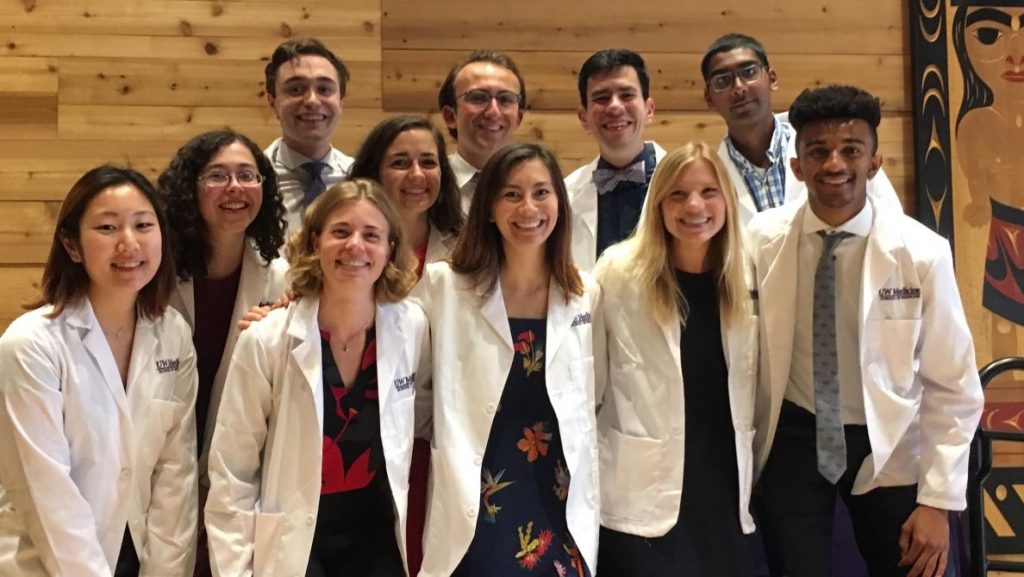 We believe that a wide range of backgrounds and experiences enriches everyone. We value diversity in our program, and we are committed to providing a nurturing and supportive environment for all members of our community. Students from backgrounds traditionally underrepresented in medicine, students with disabilities, and veterans are encouraged to apply.
We work closely with the medical school's Center for Equity, Diversity and Inclusion (CEDI), University of Washington GO-MAP (Graduate Opportunities and Minority Achievement Program), DO-IT (Disabilities, Opportunities, Internetworking, and Technology), and the University of Washington Veterans Center to ensure that all of our students have a welcoming learning environment.
UW Student Resources
Office of Minority Affairs and Diversity (OMA&D): OMA&D's mission is to ensure the access and academic success of diverse populations through the advancement of knowledge, academic excellence, diversity, and the promotion of values, principles, and a climate that enriches the campus experience for all. They offer Educational Opportunity Program Advising/Counseling services.
Center for Communication, Difference, and Equity: The CCDE strives to be a space where the UW community of students, faculty, staff, and alumni gather to promote greater equity. Through research collaborations, networking opportunities, action-oriented classes, mentorship programs, and community events, they engage in dialogue to think critically about race and its intersections, to interrupt privilege, and ultimately change the structures of power around us.
Washington Institute for the Study of Inequality & Race: The WISIR is an interdisciplinary research center dedicated to bringing the tools of critical theory and contemporary social science to the analysis of social, economic, and political inequality along lines of race, ethnicity, gender, sexuality, and class. The center seeks to enhance public understanding about these issues, as well as contribute to political solutions.
Samuel E. Kelly Ethnic Cultural Center: The Kelly ECC is an inclusive and affirming space that cultivates a transformative student experience. They serve and empower historically marginalized and underrepresented students by providing educational and cultural opportunities for holistic development.
Disability Resources for Students: DRS is dedicated to ensuring access and inclusion for all students with disabilities on the Seattle campus enrolled in our undergraduate, graduate, professional, Evening Degree and Access programs for over 40 years.
Health Sciences Center Minority Students Program: The Health Sciences Center Minority Students Program supports underrepresented minority and disadvantaged students interested in health science, biomedical, or behavioral graduate or professional opportunities at every stage of their university career.
Latino Center for Health: The Latino Center for Health provides leadership for community-engaged research through capacity building and authentic partnerships with community stakeholders to provide impactful improvements in the health and well-being of Latinx communities in Washington state, regionally and nationally.
UW SACNAS Chapter: Society for Advancing Advancing Hispanics/Chicanos & Native Americans in Science is an inclusive organization dedicated to fostering success of Chicanos/Hispanics and Native Americans, from college students to professionals, in attaining advanced degrees, careers, and positions of leadership in STEM.
Q Center: The University of Washington Q Center is a fierce, primarily student run resource center dedicated to serving anyone with or without a gender or sexuality – UW students, staff, faculty, alum, and community members. They host and support student groups, put on regular programming events, house a lending library, and amplify student voices on our Student Blog.
D Center: The D Center is UW's Disability and d/Deaf Cultural center, housed in a cozy space in Mary Gates Hall where students can study, organize, rest, or hang out with classmates and other community members. Throughout the year they host events and workshops focusing on social justice and activism. Their space is accessible to mobility aids, low lights, and scent free.
Student Veteran Life: The mission of Student Veteran Life is to create centralized services and programming that supports student veterans and their dependents in their academic endeavors; grow and strengthen the veteran community and identity by cultivating a sense of pride in the sacrifices that student veterans have made in service to their country; and represent the unique position and needs of our veteran constituents.
Women's Center: Promotes gender equity and social justice through educational programs and services that allow all participants to succeed in life.
wǝɫǝbʔaltxʷ – Intellectual House: Serves as a multi-service learning and gathering space for American Indian and Alaska Native students, faculty and staff, as well as others from various cultures and communities, to come together in a welcoming environment and share knowledge.
Native Organization of Indigenous Scholars: The NOIS was created to bring together University of Washington graduate and professional students of Indigenous descent. Their goal is to increase awareness of their ongoing research, work, and achievement through building a supportive community in which to socialize, network, share knowledge, and disseminate information.
Indigenous Wellness Research Institute: The IWRI's vision is to support the inherent rights of Indigenous peoples to achieve full and complete health and wellness by collaborating in decolonizing research and knowledge building and sharing.
Student Organizations: Student-led organizations for a variety of cultural, educational, and community groups. There is a student group for every occasion!
School of Medicine Pathways
The UW School of Medicine offers multiple pathways for students interested in working with underserved communities. These include the Indian Health Pathway, the Global Health Pathway, the Hispanic Health Pathway , the Underserved Pathway , the Black Health Justice Pathway, and the LGBTQ Pathway. In addition, clerkships carried out in the five states of the WWAMI enable students to customize their clinical training to work directly with communities served through these pathways.
Conferences
Please visit the UW MSTP booth at any of the following recruiting conferences:
ABRCMS Annual Biomedical Research Conference for Minority Students
SACNAS Devoted to Advancing Hispanics, Chicanos, & Native Americans in Science
AISES American Indian Science and Engineering Society
National Institutes of Health Graduate & Professional School Fair
Pacific Rim International Conference on Disability and Diversity