News
December 15, 2022
Amelia Wilhelm highlighted on NIGMS Biomedical Beat Blog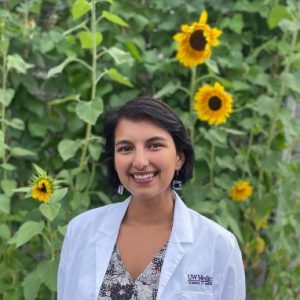 "Being able to ground your research in questions coming directly from your patients and their families is so meaningful and a huge part of why I'm interested in becoming a clinician-scientist," says Amelia Wilhelm, an M.D.-Ph.D. student in the NIGMS-supported Medical Scientist Training Program (MSTP) at the University of Washington in Seattle. MSTPs prepare students to combine clinical practice and rigorous scientific research in their future careers.
Continuing the Family Tradition in Science
As a child of two scientists, Amelia was exposed to research and medical careers from an early age. She earned a bachelor's degree in chemistry at Bates College in Lewiston, Maine, and then began working as a lab technician at the Children's Hospital of Philadelphia in Pennsylvania. Watching the principal investigator of her lab, clinician-scientist Lindsey A. George, M.D., interact with patients inspired Amelia to pursue a similar career.
Amelia chose the MSTP at the University of Washington because of the wide variety of research opportunities and the connection she felt with the program directors and students. She began her second year of medical school in summer 2022. Next, Amelia will take 4 years to work on her Ph.D. before completing her final 2 years of medical school. She hopes to focus on immunology in her Ph.D. research, her clinical studies, and eventually in her practice as a clinician-scientist.
Amelia says that the MSTP directors were especially helpful with connecting her with mentors for her summer clinical rotations. They also provided professional development opportunities, such as visiting an MSTP alumnus who now works in industry to learn about that career path.
Although she's still in the early phases of becoming a clinician-scientist, she's already supporting younger students with similar interests. Amelia has collaborated with the career development center at her alma mater to offer webinars where she's shared advice on preparing for a career in medicine. She's also worked with other University of Washington graduate students to organize quarterly webinars about clinician-scientist careers for undergraduates at schools in Washington, Wyoming, Alaska, Montana, and Idaho that don't have premed advising.